Calm Capital acquired Wavve
I'm excited to announce Calm Capital's purchase of Wavve.
Wavve helps podcasters and creators promote and market their audio by providing tools to create animated video clips, captioned audio audiograms (or "wavves" :), responsive podcast landing pages, and more.
We love good businesses led by great people…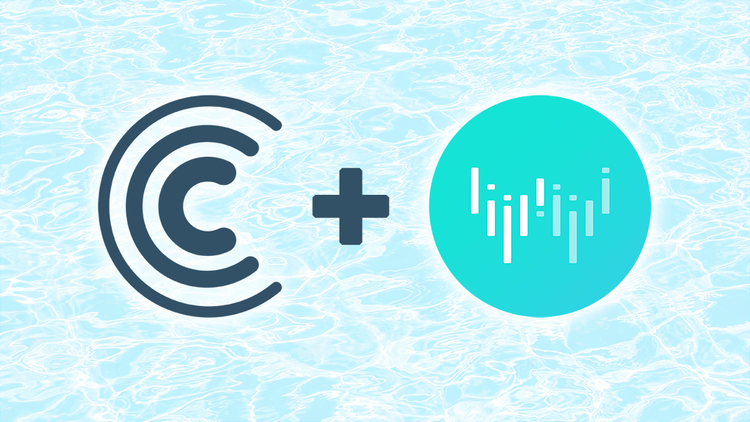 Zero to one
Wavve was first developed in 2016 as an internal tool to promote another product, an asynchronous Clubhouse or "audio-based Reddit", the founders (Nick and Baird) were working on. On January 1, 2017, they sold the previous product's tech after realizing Wavve had more potential than the product it was trying to promote.
Driven by a bootstrapper's work ethic and bias towards profit, Baird and Nick started doing outreach to find customers and continually improving the product. As momentum built, they honed in on making the interface simple to use and the product stand out online.
In May of 2017, Wavve reached $1k MRR
This led them to Rob, who helped Wavve work through critical product decisions and implemented amazing animations in the videos and provide. Nick, Rob, and Baird hit it off and Rob joined Wavve as a partner.
A year later it was at $10k MRR.
In late 2018, Wavve completely overhauled the backend infrastructure to optimize customer performance, reduce costs, and prepare for growth.
By January 2020, Wavve hit $70k MRR. And in April 2020, Wavve surpassed the $1 Million ARR milestone.
In September, the founders built a product called ChurnKey to solve their own churn problems at Wavve and became passionate about offering it to other companies to achieve similar results. They also realized their creator style "0-1" skill sets weren't what Wavve needed as it continued to grow.
Hmmm, building a product to help their existing product? I'm seeing a pattern!
They felt it was time for true operators to come in and help Wavve get to the next level and decided to find the right home for Wavve to free up more of their time to grow ChurnKey.
They entertained a few offers from buyers and were considering their sale when they received an email out of the blue from a guy named David from a new company called Calm Capital.
Introductions
Calm Capital was looking for its next company to buy in October of 2020. After using a broker for our previous acquisition, Marty and I wanted Calm to have its own process for finding, evaluating, and acquiring a company.
We hired a friend of Marty's, Keaton, to help us work out an acquisition framework. We gave him a few criteria for the type of companies we were looking for and asked him to make us a list of potential "calm companies".
On that list was a company in the podcast marketing space called Wavve. It immediately sparked our interest. We looked them up and thought there was no way they'd be interested in selling (they were bootstrapping on Indiehackers). But, they seemed like really cool guys who we'd want to meet. So, I emailed them to get acquainted.
We started talking.
And to our surprise, they were looking to sell Wavve so they could focus on ChurnKey.
Things progressed pretty quickly from there.
The Deal
The first email was on December 7, 2020. After several calls and a half a dozen emails, Calm Capital sent an offer to Wavve right before Christmas.
The more we learned about the business' potential and how well it was designed and built, and the more we got to know Nick, Baird, and Rob, our excitement about the idea of Wavve joining Calm Capital grew.
Wavve had also received two formal LOIs and was pretty far down the road before we showed up.
While that was happening, Calm Capital brought in a minority partner in Wilmington Holdings to complete the new ownership team.
By January 2021, we had a signed LOI.
In February, we recruited Jeff Dolan to be Wavve's CEO. Jeff is a hometown friend of mine and the perfect leader to take Wavve into the next five+ years. Jeff's a podcaster, filmmaker, writer, and growth marketer with leadership experience.
At the end of March, we closed on Wavve. While I'm not going to share detailed numbers, here are a few highlights about the deal's structure.
Instead of a 100% buyout, we structured the purchase in a way where Calm and Nick, Baird, and Rob could maximize total outcomes. Nick, Baird, and Rob were able to receive a significant amount of cash upfront but still participate in the upside of Wavve's growth.
This was advantageous because they wanted to see where Wavve could go and believed its best days were ahead but still wanted to focus on their next product, ChurnKey.
Calm was able to reduce the amount of upfront cash needed and pay the remainder with the existing (and growing) cash flows from the business.
Calm's approach also helped to incentivize the founders to stay involved and gave them the opportunity to continue to benefit from the great company they built.
What's next for Wavve
First, we're excited to have Baird, Nick, and Rob stay involved as advisors and advocates for Wavve. They know the company and the customer very well.
Second, we're going to start by doing what we've done at our other companies, focusing on our customers. We're going to listen and learn what they love and what they'd improve. Then we'll focus on quick wins and improvements that enhance their experience.
This doesn't mean we don't have big plans for Wavve. We do. It's just we have a different way of thinking about growing businesses at Calm Capital. We're patient and purposeful.
Our vision is to see Wavve develop into the most dynamic and easiest-to-use audio marketing platform in the market.
If you'd like to learn more, check out the announcements on Wavve's blog and ChurnKey's blog.
If you're curious and would like to discuss more of the details, feel free to reach out.
💡
Hat tip to our team including, associate Keaton Inglis, our attorney Ryan Luft, CPA Patrick Coleman, technical expert Todd Fortier, and our partners at Calm, Mike and Steve, and Wilmington's David, Clifford, and Marshall. This deal wouldn't have come together without your significant contributions. Marty and I learned so much during this process. And finally, congratulations to our new friends Nick, Baird, and Rob.